Emily Williams | Certified Mental Trainer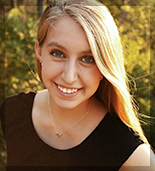 Emily Williams, M.A.
Certified Mental Trainer® (Texas)
Emily received her Master of Arts in Sport and Exercise Psychology from Argosy University. She also holds a Bachelor of Science in Kinesiology – Exercise Science from Dallas Baptist University. Emily is a member of the Association for Applied Sport Psychology, as well as the American Psychological Association- Division 47 (Sport, Exercise, and Performance Psychology).
Emily is a former dancer who focused heavily on ballet and pointe, as well as pas de deux, jazz, modern, and choreography. She has a niche for working with dancers, gymnasts, and other performing artists, to improve their mental skills and, therefore, improve performances. However, she also has experience working with athletes of various levels from all disciplines, and works in a physical therapy clinic that specializes in orthopedics and sports medicine.
Emily loves supplementing her mental training with her knowledge of nutrition and injury prevention, as well as her sports medicine background, in order to create a more holistic training regimen. Emily resides in the North Dallas area where she provides services globally to athletes of any sport via Skype.
Book a Free Initial Meeting to Get Started