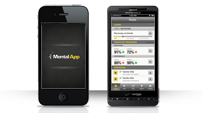 MentalApp® Single User Signup
Thanks for your interest in MentalApp. This mental training tool for your mobile device has been designed to be used within teams so coaches can manage many athletes. We've recently decided to offer MentalApp to a limited number of individual athletes, as long as they are under the supervision of an MTI Mental Trainer®.
So if you've been given this website link by someone within MTI, then we invite you to use the payment link below to purchase MentalApp!
Click the button below to purchase MentalApp for $50/mo. There is a 3 month minimum, and then month to month thereafter (call or email to cancel). Included is the Roadmap to the Zone ebook and weekly email support from an MTI Mental Trainer®.
After you've completed the payment process, contact your Mental Trainer® (or email MTI) to get an access code. Thanks!
Email your questions to [email protected]
What Is MentalApp (English): https://vimeo.com/51416482
How to Use MentalApp (English): https://vimeo.com/64413053
What Is MentalApp (Spanish): https://vimeo.com/51933187
How to Use MentalApp (Spanish): https://vimeo.com/62222687