Fear of Failure or is it the Fear of Failing?
Mike Margolies CMT®
Fear of Failure
The difference between Fear of failure and Fear of failing.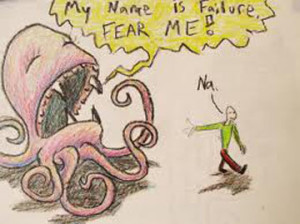 FEAR can be scary; it can definitely hold athletes back from accomplishing many great things. Fear is failure can be about not wanting to fail at anything you do, so you push to achieve greatness at all things. One does not always succeed, but you learn many great lessons from failures. We try as athletes, coaches, and parents to turn the Fear of something into a positive, so we can achieve success on all levels. We need to strive to be better today than we were yesterday. I do wish it was just that easy but I'm not sure that it is. Not by simply changing a single statement that is. It got me thinking about the difference between Failure and Failing.
I'm struck by the semantic difference. Fear of Failure can be debilitating to an athlete or anyone for that matter. Fear of Failing can be used as a force to drive people towards their goals instead of away from them. When working with athletes that fear failure, you understand that it prevents them from trying their best. This is defining to these athletes. It is often times more difficult than you would imagine changing a person's concept from Fear of Failure to having positive goals to succeed.
People, I suspect, that Fear Failing, are those that seem to be the most driven. It is for sure a very delicate balance. Our minds understand things at a very subtle level.  I will go back and quote, as I often do, the Master Mental Trainer Yoda. Do or do not, there is no try. When we are fearful of failing, we are actively engaged in the activity. It is conscious. You may say to yourself, if I don't practice I may fail, so you practice. Fear of Failure is unconscious. The athlete often stops putting in the appropriate effort in order to protect themselves unconsciously from failure.  Some of those contributing fears are often like these:
Fear of losing
Fear of criticism and not performing perfectly
Fear of being embarrassed
Fear of letting people (family, friends, teammates) down
Fear of not performing up to their "potential"
Fear of being unwanted, losing respect, or not getting support
To Fear Failing perhaps is understanding that failing means not getting what you want from what you are trying to accomplish. Failing means you don't win. Failing means you don't get the brass ring. Failing means you don't play at the next level. Failing is not being able to be part of a college team. There are all sorts of things that failing can mean to you.  Failing has not happened yet. Failure has.
FEAR can stop any person in their tracks
Does not mean we quit or give up?  We need to pick ourselves up and conquer the FEAR.  FEAR is powerful and needs to be controlled or we will never flourish. To understand Fear, it is important to remember a few things. We are born with only two Fears. "A Fear of falling and a Fear of loud Noise".  Every other Fear we have is learned.  What we can learn we can unlearn.
The other thing needed in understanding fear is our Fear response. We react two ways initially to Fear. We Fight or we Run (Flight). These are neurologically programmed into us. So when we fear failure we can have two initial reactions. 1) to run away  2) to fight  In Fear of Failure the common response is flight. We can run away by quitting or by no longer trying. But perhaps when we Fear Failing, it is a signal to us to Fight. And in fighting we look for ways to survive and conquer.
To win our battle over fear and not just survive
The athletes I've worked with who were easier to assist with this issue are usually looking to deal appropriately with the fight response. They want to win. They don't want to quit. They consciously understand their fear. This is rarely true for someone that fears failure. They do not understand what is holding them back. How it is they are sabotaging their efforts. If you think about your struggles with success and failure, is your response to run or fight? Are you afraid of failure or of failing?  There is an answer to each issue and it starts with you and the voice inside. Understanding your fear is the first step in climbing past your own limitations. Of course we are always here to help at  Mental Training Inc.