MentalApp® is the most complete mobile mental training app designed to help athletes and performers develop mental toughness.
Teaches core mental skills through short videos & audios
Provides tools to practice mental skills for habit development (relaxation, awareness, imagery)
Provides tools to track progress (monitoring chart, written goals, journal, roadblocks, schedule & results)
Provides automated rewards, feedback and reminders
Enables coaches and Mental Trainers to oversee & provide accountability with an elegant dashboard
Enables Mental Trainers to provide effective mental training to small, medium & large groups
Enables coaches and Mental Trainers to send individual and group messages in-app
Works on every type of computer and mobile device (called an "HTML-5 brower app")
Simple toggling between English & Spanish
Works anywhere in the world
Is extremely affordable
Screen Shots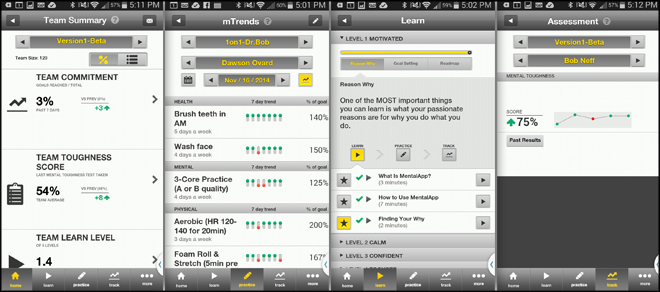 Individuals can now purchase the MentalApp® bundle HERE regardless of whether the rest of the team participates. Contact MTI for a discounted team or group quote for up to 3,000 athletes, please call 1-877-744-5365 or email [email protected].